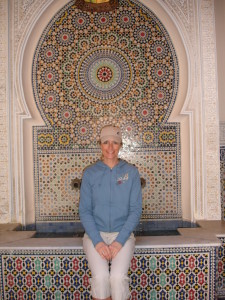 The pavilions at the World Showcase in Epcot are a wonderful place to explore. I love immersing myself in a country without having to buy a plane ticket. My favorite pavilion is Morocco. This is a country I hope to someday see in person but until then I love exploring the shops and admiring the tile work around the buildings. I also love the food and I am excited to hear that a new restaurant is coming to the lagoon in front of the Morocco Pavilion.
The current restaurant in the Morocco Pavilion, Restaurant Marrakesh, is a wonderful restaurant filled with great flavors, but it is table service and when you are in the restaurant you can't see any of the pavilion. The new restaurant, Spice Road Table, will have lots of outdoor seating, perfect for enjoying the flavors of Morocco while you watch IllumiNations. I love that they are providing more seating for this wonderful show. I often skip it because I can't find a good place to wait for and watch the display. I look forward to enjoying great food and a great evening extravaganza. Happiness squared.
Goofy Tip: A cool souvenir to buy in the Morocco Pavilion is a necklace that has your name written on the shell in Arabic. However, if you don't want the necklace you can ask one of the Cast Members in the pavilion, who are all from Morocco, to write your name in Arabic in your autograph book. It is beautiful to see and a great free keepsake. Maybe while you are waiting you could ask them what their favorite Moroccan food is. Then you could try it at the Spice Road Table when it opens.