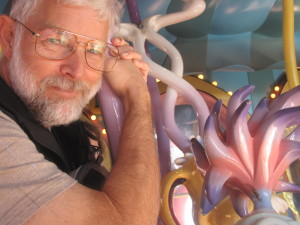 I was walking through the Magic Kingdom with my friend, Randy, in January 2012 and he brought up music. At that moment we were crossing over the bridge from Adventureland to Main Street U.S.A. Now I know that the music changes depending on where you are in the park and I often find myself dancing to the different tunes but Randy heard something different. See, he is brilliant in a technological way and he started talking about audio concepts I had never heard of and never thought of. It was cool to learn about different speakers and changes in the music. It opened my ears to something I had just accepted as normal.
Now, my hearing is okay, but things like Bose Wave radios and other high end music systems are wasted on me. I guess that is why I never thought to work in the audio world. But there are people whose job it is to make the music come to life in the parks, not just the overall park music, but at the parades and other live shows that happen every day. Disney Parks Blog has a fun interview with one of these stage technicians. I was amazed at how much fine tuning they do for each event. It looked like a fun job.
As you walk through the parks it is easy to admire the buildings and landscaping that makes each land special. Next time you are there take some time to listen to the music. It is chosen as carefully as the color of the paint on a door. Happiness squared.
Goofy Tip: If you want to entertain your ears, your eyes, and your whole body then check out the best show in all of Walt Disney World. Of course I am talking about Ye Haa Bob! at the River Roost Lounge at the Port Orleans Resort – Riverside. It is a spectacular treat to listen to and I can't wait to hear him again.