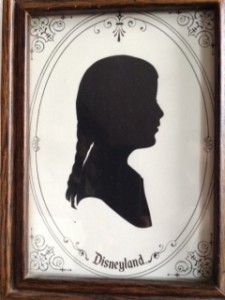 One of my favorite shops on Main Street, U.S.A. at Disneyland is the Silhouette Studio. I love the idea that this old-time craft is alive and well in the 21st century. Have you ever sat for a silhouette? It takes very little time and the results are impressive. I have given silhouettes as gifts and they are treasures.
As part of the Disney Parks Blog's "Every Role a Starring Role" they interviewed a silhouette artist. I thought this was interesting and it made me want to learn how to cut silhouettes. I have an instruction book, paper, and scissors, but I've never taken the time. Perhaps in 2014 I'll try it out.
Many people think the Disney parks are just Mickey Mouse but they are so much more. When you visit you can step back in time and see many lost arts performed from candy cane making to silhouette cutting. I find it all magical. Happiness squared.
Goofy Tip: If you are celebrating a special event at Disneyland this year why not have a silhouette made to commemorate the day. As souvenirs go this keepsake is reasonably priced and a one-of-a-kind.