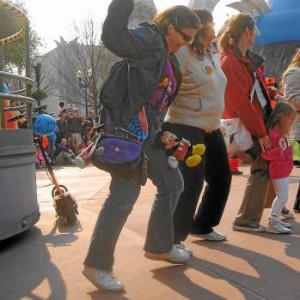 I don't know about you, but running around the parks makes me hungry. When lunch is a distant memory and dinner is still a ways off I yearn for a snack. There are many snack choices in the Disney Parks. Just about anywhere you can find churros, ice cream, and fruit. Along with these tasty ideas there are options that are only found in certain areas, like ethnic choices in the World Showcase, or cookies and candied apples at the various bakeries in different parks. With so many choices how can you choose?
I like all snacks, but I know that at least once on any Disney vacation I am going to get a bucket of popcorn. It is my go-to snack and these are the reasons why.
5 goofy reasons I buy popcorn at the Disney Parks:
1) It is great for sharing. At first glance a bucket of popcorn looks expensive, but you get a lot of popcorn, enough to share or to save for later.
2) It has a removable handle. The great part about the popcorn bucket is not just that it has a handle so you can carry it easily, but that the handle snaps on and off so you can hook it on your bag strap or backpack and keep your hands free. I find an empty popcorn bucket is great for storing leftovers. Just hook it to your bag and forget about it.
3) It can be stored. You can't take food on the attractions so if you are eating ice cream or a churro you need to finish it before you get in line. With a bucket of popcorn you can just put the lid on it and go right on. When you are done with the attraction you can enjoy more popcorn
4) The buckets are useful. The buckets are a great souvenir and can be very useful when when you get it home. From a kids play bucket to an impromptu flower vase there are a thousand uses for these fun buckets.
5) Popcorn tastes good. Okay, this one may be a matter of opinion, but I when I have been indulging in lots of sweet treats and soda it is nice to enjoy something hot, buttery and salty. Plus, Disney uses Orville Redenbacher and that is just a great brand of popcorn. It's way better than what you can find at most movie theatres.
So grab a bucket of popcorn to share among your group. You'll reduce the mid-afternoon hungry grumps and everyone can enjoy a tasty treat. Happiness squared.
Goofy Trivia: According to a corporate Disney website more than 300,000 pounds of popcorn is sold at Walt Disney World in a year. Boy, that makes me thirsty. That must be why 75 million Cokes are consumed every year. Yum!