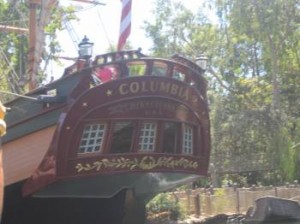 When I was growing up I lived near Disneyland. Because we could go whenever we wanted we tended to go when the park wasn't crowded. We avoided summer and busy school holidays. We had no desire to stand in long lines and fight the crowds.
The Disneyland Half Marathon is on Labor Day weekend so we had no choice but to visit during a traditionally busy time. I prepared myself to deal with lines and crowds. With good planning we avoided most of both, but I didn't realize that some special things happen on the busiest days and I would fight the crowds just to experience these magical attractions. I hope you can visit on a busy day. It has its ups and downs, but like the Robin Hood song says, "Sometimes ups outnumber the downs."
3 reasons to visit Disneyland during the busy times:
1) The Davy Crockett Explorer Canoes. This attraction is one of the rare rides that does not run on a track. If the Guests don't row the canoe doesn't go. The Cast Member standing at the front of your canoe teaches you how to paddle and then tries to get everyone to paddle in unison. This is easier said than done. Our guide, Ben, said that we looked like a drunken caterpillar. I might have paddled better if I wasn't laughing so hard. Ben was very entertaining. We did manage to get our canoe around the Rivers of America with Ben's help. If only my daily workout was this much fun.
2) The Sailing Ship Columbia.  The Mark Twain Riverboat runs most days, but the Columbia only runs on the busiest days. Unlike the easy-going paddle boat the Columbia is a powerful ride complete with a cannon blast. Once you have enjoyed the view topside you can go below and explore the maritime museum. I saw a scuttlebutt but I don't know what that is. My favorite attractions are the ones that teach me something new.
3) The second showing of Fantasmic!. On the busiest summer nights there are two showings of Fantasmic!. If you can stay I suggest watching the second one. We rode lots of rides during the first showing and then watched the fireworks from the Frontierland side of the hub. We hurried over to Frontierland just before the fireworks ended and found a rope up between Frontierland and New Orleans Square. The Cast Members were letting Guests leave the Fantastmic! viewing area before letting the next group in. When the rope dropped we were able to get a great seat with only a half hour wait.
Busy days have their good and bad points, but if you get a chance to discover these three busy day treats you may decide that busy days are great! Happiness squared.
Goofy Tip: I can not stress this enough. If you want to have a successful visit on a busy day then eat early. We ate between 11 and 11:30 each day and had no lines at the register. By 12:30 there were long waits. So eat early and then enjoy the great attractions available on the busiest days.