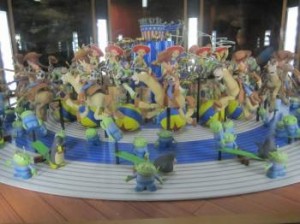 My favorite part of Disney California Adventure isn't Cars Land (although it is awesome), or California Screamin' (although it is my favorite roller coaster ever). My favorite part is the Animation building in Hollywood Land.
This building is a great place to go in the heat of the day and it is a great way to get away from the crowds. It also houses three of my favorite attractions. Two of them, Animation Academy and Turtle Talk with Crush, I was familiar with and never miss them. The third attraction I had never seen before and once I did I never wanted to leave. That attraction is a small dim annex called Character Close-up. In there you will find a 3-D Toy Story zoetrope. Wow.
If you have never seen a zoetrope click here to learn about them. I had seen 2-D zoetropes and even made one in school when I was a kid (although we didn't call it a zoetrope). Disney's zoetrope is 3-D and when it started rotating I could not believe what I was seeing.
The funny part about this attraction is that there is no button to push. You could easily wander around the room and leave without realizing what magic it holds. The only reason we stuck around was that one of our group had, by accident, seen it work and she insisted we stay until it started again.
I have no words to describe how amazing this device is. It goes from stationary, to a rotating blur, to an animated scene right before your eyes – but you won't believe your eyes when it happens. I watched it time and time again and still felt my eyes must be deceiving me.
So take time to explore the Animation building in Hollywood Land and don't miss the zoetrope. It is as breathtaking as Cars Land or California Screamin'. Happiness Squared.
Goofy Tip: When you are finished sketching at the Animation Academy you exit down a hallway. Don't rush through without looking around first. The windows in the hallway look in on the zoetrope. You might catch it running if you take time to notice. Then you can hurry over to it and watch the magic continue without any wait.