I wanted to do a post about the hidden gems of the World Showcase in EPCOT, but I could not decide which gem to write about so I am going to do a series of posts called World Showcase Wonders. I'll highlight one gem in each pavilion. These are features that people might not notice as they hurry from store to store and restaurant to restaurant. At the end of this series I'll have a downloadable brochure that you can print out and take to the parks so you can see of these gems for  yourself. Today we are in Mexico.
The Mexico Pavilion is unique because inside the pyramid it is always twilight. This effect gives off a wonderful feeling of relaxing at the end of a day, even when it is hot outside. Because you feel relaxed you slow down, browse through the market place, and linger over a nice meal. If you want to liven things up a bit check out this hidden gem of Mexico, the Gran Fiesta Tour Starring The Three Caballeros.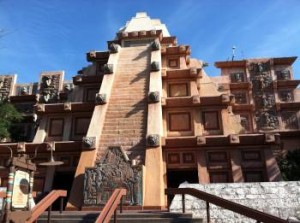 Before it was remodeled the boat ride in Mexico was a sleepy trip through the beautiful landscape of our southern neighbor. During the remodel they added the characters from the Disney animated movie The Three Caballeros. In this movie Donald Duck is celebrating his birthday and two of his feathered friends, Panchito, the Mexican rooster, and José Carioca, a Brazilian parrot, bring him presents. The presents allow him to visit various locations in Mexico and South America and cause Donald lots of trouble. This is a fun and beautiful film with fantastic music. By adding these three crazy birds to the ride Guests get to enjoy a taste of Mexico and a taste of the movie. The music is fun, and of course, Donald has problems. Enjoy this gem as a change from the peaceful feel of the Mexico Pavilion.
Goofy Tip: Spend some time looking at the different pieces of art displayed around the plaza. Often the craftsman will be there working and you can watch him or her create their pieces. I am always impressed by artists who create beautiful items in a timeless fashion.