I wanted to do a post about the hidden gems of the World Showcase in EPCOT, but I could not decide which gem to write about so I am going to do a series of posts called World Showcase Wonders. I'll highlight one gem in each pavilion. These are features that people might not notice as they hurry from store to store and restaurant to restaurant. At the end of this series I'll have a downloadable brochure that you can print out and take to the parks so you can see of these gems for  yourself. Today we are in Germany.
I enjoy browsing all the stores in the World Showcase even though I rarely buy anything. The stores in the  Germany Pavilion are no exception. I spend a lot of time looking at the teddy bears and the cuckoo clocks. These are items that you don't see other places, and I will admit, someday I am going to buy a cuckoo clock so that I can enjoy it at home. There is one place in the Germany Pavilion that is really fun to shop in. It also has other reasons to visit and that makes it a gem of Germany. It is Werther's Karamell Küche.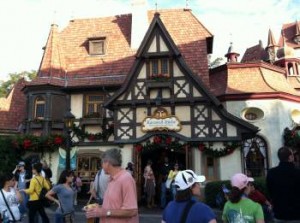 If you need a treat and have a sweet tooth that needs pleasing then Werther's Karamell Küche is the place for you. But even if you are not hungry it is a fun place to explore.
The Cast Members make the candy and popcorn on the premises so you can watch them. I love watching sweets being made. Apples being lovingly dipped in caramel.  Popcorn being stirred carefully through caramel. Caramel being poured over luscious fudge or poured by itself onto a pan so it can be cooled and cut into perfect caramel squares. Oh yeah. This store is worth a visit because in my book anything with caramel in it is a gem.
Goofy Trivia: Werther's Karamell Küche opened in the Germany Pavilion on September 30, 2010. It's sponsored by Storck USA, who makes Werther's Original Caramels. This store truly is a unique gem because it is the only free-standing, working Werther's Caramel shop in the world. Obviously you don't want to miss it.