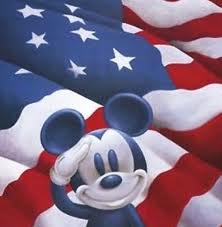 Happy 4th of July! Along with the food, festivities and fireworks it is a great day to remember that no matter how we may disagree with each other we are all Americans and we all can celebrate how this great country came into existence.
I love a good quote so I thought I would celebrate our nation's birthday by sharing some with you. Happiness squared.
"Liberty cannot be preserved without general knowledge among the people." John Adams
"Our greatest happiness does not depend on the condition of life in which chance has placed us, but is always the result of a good conscience, good health, occupation, and freedom in all just pursuits." Thomas Jefferson
"Tomorrow will be better as long as America keeps alive the ideals of freedom and a better life." Walt Disney
"Patriotism is supporting your country all the time, and your government when it deserves it." Mark Twain
"Most of us are just about as happy as we make up our minds to be."  Abraham Lincoln
Goofy Tip: Few things are more patriotic than listening to music performed by our various military bands. Americana music always brings me to tears and doubly so on July 4th. All week long at the Disneyland Resort a variety of military bands will be performing. If you have a chance to visit the parks this week make a point to see these performances. They will make you proud to be an American. Click here for the schedule.