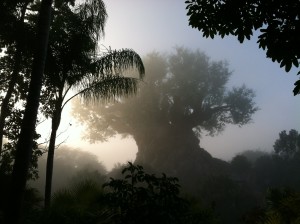 I like to take photos but I usually just take photos without any thought about the time of day or where I am. If I see something I like I take a photo of it. At the Disney parks there are lots of opportunities to take pictures. However, the time of day that you take your picture can give you very different results. Large objects like the Tree of Life at Disney's Animal Kingdom or Cinderella Castle at the Magic Kingdom look very different depending on the sky around them.
Even small objects like statues and water features can look different depending on the time of day. To get the best photo possible of your favorite iconic Disney objects try this experiment. Find a spot that allows you to take a great photo of the object. Do this as you first enter the park. Then come back a few hours later, stand in the same spot, and take another picture of the object. If you are still in the park in the evening come back again and take another picture from the same spot.
You may be thinking, who has time for this? I just want to ride the rides. Personally, I tend to cross the parks over and over and see some objects many times. No matter what your plans are you have to leave the same way you entered so you could take a photo at the beginning and the end of your day. And while you may not think much about these pictures when you take them you will have a pleasant surprise when you get home.
You may discover one of three things. One of the photos may stand out as the best picture of the day. Or all three pictures may be great in their own way. Or all three may be horrible. I'm betting the last one won't be true. If all three are great consider framing them together as a collage. If only one is good delete the other two and be glad you had a choice. No matter what the outcome you opened up your eyes to the wonder of the parks throughout the day and wonder is what the Disney parks are all about. Happiness squared.
Goofy Tip: Disney Photopass+ has become Memory Maker but the park photographers are still out and about ready to take your picture. They don't care if you come back every hour for another photo so feel to have your picture taken at the same spot over and over. It will be a fun record of your group throughout your stay.