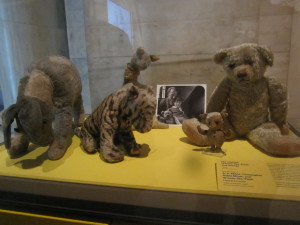 Everyone knows you should wash your hands often, but if you are getting a star on the Hollywood Walk of Fame you can enjoy having dirty hands. Many famous human actors and actresses have placed their hands in the cement but did you know that non-humans have been honored, also. Mickey Mouse, Shrek, and several more have been so memorialized. However, today is the anniversary of a silly old bear getting his day in the sun. Winnie the Pooh got a star on the Hollywood Walk of Fame on April 11, 2006. I would love to see this star.
If you happen to be on the other side of the country, perhaps in New York City, you can go see the original Winnie the Pooh and his friends. They are living at the New York Public Library. I got to see them last September and it was a dream come true. I'll now have make a trip to Hollywood and add to my Pooh Bear experiences. Happiness squared.
Goofy Movie: Disney has made a great many Winnie the Pooh movies throughout the years and I would like to recommend two. Pooh's Heffalump Movie
 stars Lumpy the Heffalump and Roo. It is a sweet story of friendship and Lumpy is the cutest animated character ever. The other one is the 2010 Winnie The Pooh
Movie. It is sweet and funny and all the characters shine. Plus, you'll love Winnie the Pooh all over again.