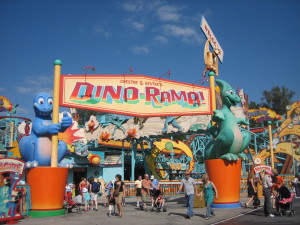 Most people only look down when they are afraid of tripping. At the Disney parks you should look down a lot so you don't miss any cool designs that have been added to the walkways, roads, and sidewalks. I find that the paths at Disney's Animal Kingdom are the most creative anywhere. One reason is that they are not straight. The Imagineers don't want you to run to your favorite ride the minute you enter the park. They want you to meander through the lands and see everything around you and under your feet.
Three fun things to see under your feet:
In The Oasis. When you first enter the park slow down and look down. There are lots of animal footprints going your way. It shows that you are entering a wild place, a home for animals.
In Africa. Look down at the ground and you'll see the outline of a building. It shows where the old fort was when Harambe (the village in Africa) was a British colony. I think it is cool that the Imagineers can tell a story without using words.
In Dinoland. If you go play in the Boneyard you'll find some dinosaur footprints. Don't just look at them. They make cool noises when you step on them. Grrrr!
One of the things I love most about the Disney parks is the attention to detail. I think the Imagineers spend as much time designing the ground as they do everything else.  Keep your eyes open so you don't miss a single bit of fun. Happiness squared.
Goofy Tip: While the main path between the lands is the fastest way to get one area to the next I suggest taking the side paths. It will take you longer to get where you want to go, but you'll see more animals and less people. You may even find a surprise or two.