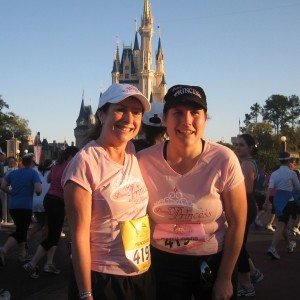 On Sunday I am running the Marine Corp Historic Half Marathon in Fredericksburg, VA. My brother gave me this race and trip as a present for my 40th birthday coming up in October. What a brother!
I plan to run a half marathon in every state in my lifetime. That should not be that hard to do if I don't repeat states too often. And there lies my temptation. I love to do races in the Disney parks. I've already run three times in Florida and once in California and I will be doing more. That really cuts into the number of new states I can finish in a year.
Now that I think about it runDisney races should be separate from my 50 state goal. Instead I will try to do all of the runDisney races that I can. I have to qualify this goal because they add and drop races all the time. Still, I think I will like meeting this goal since every runDisney race includes a trip to a Disney park. Awesome.
Between races I like to listen to running podcasts and read running books (I train occasionally, too.) Recently I have found some runDisney resources that are fun to listen to and to read. I hope you someday complete a runDisney race. There is something for everyone. If you are not sure what is involved than check out the Mickey Miles Podcast. This is a low key podcast with a load of great information. They answer lots of questions and have plenty of advice for beginners.
If you want the complete scoop on Disney races than I would get a copy of Magical Miles: The Runner's Guide to Walt Disney World
. This book tells you all you need to know to run a race at Walt Disney World and have a fun vacation at the same time. Running at Walt Disney World involves more planning than running at Disneyland and this book can give you the confidence that you won't miss anything.
I hope to run my fastest time this Sunday with my brother pacing me. If I need musical motivation I'll listen to the Mickey Mouse Clubhouse soundtrack. I always run faster to the Hot Dog Song. I guess every race I run is a Disney race in my mind. Happiness squared.
Goofy Quote: (Jeff Galloway is an official runDisney training consultant. I follow his run/walk/run program. I like this quote and think it is just as true for half marathons.)
"The marathon is one of those experiences that people tell me allows them the confidence to be able to do a lot of other things in their life that they thought they could never do." Jeff Galloway