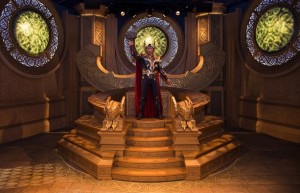 Thor is once again in the theaters. I haven't seen it yet, but I can't wait to. I like Iron Man more than Thor, but this movie is an extension of The Avengers which I thought was awesome and I don't want to miss the rest of the story.
For those of you who are Thor fans you can now meet the Nordic god at Innoventions in Tomorrowland at Disneyland. This is also the home of Iron Man Tech. If Disney keeps this up they'll have to rename Innoventions Shield HQ (and how cool would that be!) Before you meet Thor you can see props from the movies, Asgardian treasures brought to Earth for your viewing pleasure. You then pass through the Bifrost (if you don't know what that is watch the first Thor movie) and meet Thor in all his godly glory.
I think this sounds like fun. I have a limited knowledge of Thor, but this is not your average meet and greet. You can talk to Thor and ask him questions. I'd ask him who his favorite Disney character was. You also have a chance to lift his hammer. I doubt I'd be able to do this since the Incredible Hulk couldn't lift it, but it would be fun to try. The best part would be getting your picture taken with him. I'd do a cool Avengers pose (even though I learned at Iron Man Tech that I will never be a cool Avenger).
For more information check out this video from touringplans.com. They say the line is really long so I suggest showing up early if you want to meet Thor and still spend time in the rest of the park. I did the same thing for Iron Man Tech and only waited for fifteen minutes. You've been warned.
I was glad that Disney bought Marvel and wondered how they were going to incorporate the characters into the parks. I think they are doing a fine job. I hope Captain America and Hawkeye join Shield HG, I mean Innoventions, soon. Happiness squared.
Goofy Craft: For those of you who love Thor but can't make it to Disneyland you can have fun with these printables from spoonful.com. I like the wings you can add to your hat. Perfect for when you are having a tough day at school or work and want some godly power.