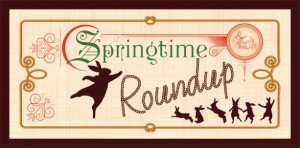 If you are still dealing with ice and snow I apologize. Here in the northwest we are wet but warm and the daffodils are in full bloom. The Disney parks are also in full bloom. The Flower and Garden Festival at Epcot is in full swing. And Disneyland will soon be hopping with flowers and fun.
From March 28 to April 20 the Springtime Roundup will be happening at the Big Thunder Ranch Jamboree. The Easter Bunny will be there with his bunny friends and familiar Disney characters. There will be great music, food, games, and crafts. It will be a real happy hoedown.
I went to the Big Thunder Ranch Jamboree last fall when it was Halloween themed. I got to color a fun mask and play a game. The Cast Members didn't even mind that I looked like an adult. I also got to interact with Mickey and Minnie without standing in a line. They just wandered around the area and danced with the kids. Mickey complemented my coloring skills and Minnie helped me pick up my mask when I dropped it. I took some great pictures. I'll be sure to visit the Big Thunder Ranch Jamboree anytime I am at Disneyland. It is a great place to relax and have a hopping good time. Happiness squared.
Goofy Tip: If you want to experience the Spring Roundup be sure to check your events guide that you receive when you enter the park. The band performs at certain times and the area closes before the park does. The guide will tell you the times so you won't be disappointed that you missed all the fun.