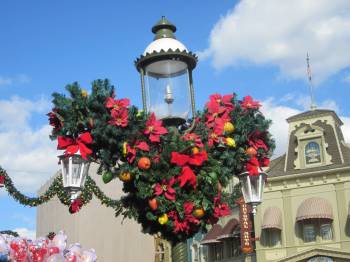 Every year when I was growing up we hung lights on our house and in the tree in the front yard. Dad had made a plywood Santa in his sleigh with two reindeer and we put them up on the roof with a string of lights for the reins and a red light for Rudolph's nose. Our house looked very festive. It took my family several hours to put up all these decorations.
I'm sure you have seen the decorations at Walt Disney World in advertisements and Christmas specials. Maybe you have even visited the parks during the Christmas season and have been wowed by the amount of lights and garland strung everywhere. Have you ever wondered how many decorations are used at Walt Disney World? Below I will share some of those numbers. I find it amazing how quickly they can get the parks decorated. They probably could have done my house in five minutes.
5 fun trivia facts about the Christmas decorations at Walt Disney World (These numbers came from the allears.net newsletter)
1) Walt Disney World has 1,300 decorated trees.
2) There are 15 miles of garland strung and 1,314 wreaths hung all round Walt Disney World.
3) Walt Disney World has 8.5 million lights strung throughout.
4) The lighting used for the holiday decor is 98 percent LED; 2 percent is compact fluorescent.
5) There are 10 miles of twinkling rope lights in the Osborne Family Spectacle of Dancing Lights at Disney's Hollywood Studios.
And how do they transport all these decorations? In 150 semi-trailer truckloads. That's a lot more than the five Rubbermaid bins I have. Happiness squared.
Goofy Craft: After you are done putting up your decorations why not relax with a fun game of checkers? If you don't have any checkers never fear. You can print out a checkers template and have fun playing this version with Mickey Mouse.