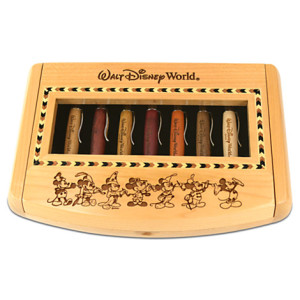 Since I live in a small space and am always trying to declutter I try not to have large collections that I need to store and dust constantly. This is a challenge for me because I like to collect things. Part of the fun of going on vacation is wandering through the tourist shops and picking up a memento. Recently I have found a new item to collect and it has made shopping while on vacation a lot of fun. What am I now buying? Pens and pencils.
At first this may sound really boring. Pens and pencils? They are not overly pretty and they are certainly not a common collection. But I love finding a new pen or pencil on vacation. It has become a bit of a quest for me to buy one everywhere I go. Still wondering why I do this? Here are five great reasons.
Five reasons to collect pens and pencils:
1) They are inexpensive. Having a large collection can really break the bank if the item you are collecting costs a lot. Most of the pencils I collect cost about one dollar. I can buy lots of pencils and still have room for a Mickey Mouse ice cream bar.
2) They are small and hardy. If you are collecting something breakable or large, like crystal Disney figurines, you have to figure out how to get them home without breaking them. Pencils take up no room in your suitcase.
3) They are useful. This is my favorite reason to collect pens and pencils. They are not just knickknacks that sit on the shelf and fill your life with clutter. They are an item that everyone needs lots of anyway. Instead of buying a dozen Bic pens you can use the ones you bought on vacation.
4) They remind you of your trip. Unlike a photo album or other items that you don't look at very often you will be reminded of your trip every time you use your pen or pencil. I have a pencil from each Disney resort I have stayed at and it reminds me of how fun it was staying in those rooms with my friends.
5) They are fun. There are lots of pencils at tourist shops to choose from and they often have fun designs. I have a pen from the National Building Museum that is shaped like a nail. I smile every time I use it.
So the next time you are looking for a fun, memorable, small, inexpensive souvenir consider a pen or pencil. I guarantee that this collection will become one of your favorites the first time you go looking for something to write with. Happiness squared.
Goofy Tip: Pens and pencils make a fun collection but they also make fun gifts. Everyone needs one and if you buy one with the person's favorite Disney character on it they will know you were thinking of them when you bought it. I often think of the person who gave me a pen whenever I use it.