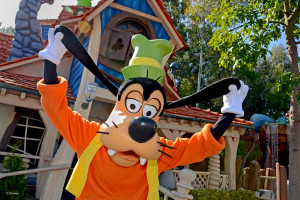 I have just subscribed to a very helpful Disney website and I wanted you to know about it. There are a lot of Disney websites out there but this one is one of the most useful I've found. It is called Disney Questions and the title explains it all. Readers submit questions about visiting the Disney parks and knowledgeable people answer the questions.
Most of the questions I have read have been ones I have thought of but never knew who to ask. I know a lot about the Disney parks and I have learned even more from this site. If you are planning to visit the parks any time in the next year I would sign up to get this blog in your inbox or like it on Facebook. It is sure to make your trip much smoother and that is my wish for you. Happiness squared.
Goofy Tip: If you are planning to visit Disneyland you can have a good time if you walk in without doing any research, but that is not true at Walt Disney World. Disney has made huge changes at Walt Disney World and much of it deals with your trip planning. Do your research by reading blogs like Touringplans.com and Disney Questions. Learn about MagicBands and Fastpass+. Figure out if you need dining reservations. G. I. Joe said that knowing is half the battle. That is doubly true at Walt Disney World. Do your research so you are not frustrated when you get to the parks. Remember, happiness is the goal. Do the research.