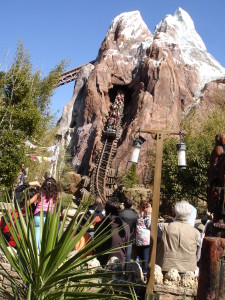 Did you like the movie Avatar? Lots of people did but I am not one of them. I saw it in 3D and was bored through most of the movie. The parts I didn't find boring I thought were too predictable. So when I first heard that Avatarland was being built at Disney's Animal Kingdom I groaned with disappointment. I would have preferred the Moon of Endor from Return of the Jedi.
But I can see the good in just about anything and I have decided that even though I never plan to visit Avatarland I am glad they are building it. Why? Well, there is the good, the bad (a little) and the Yeti.
The good – They are turning Camp Minnie-Mickey into Avatarland. This was an underused section of Disney's Animal Kingdom. The only reason to visit this area was to see the Festival of the Lion King. In order to get to the theatre you had to walk all the way to the far end of the land which was underwhelming. Due to Avatarland coming the Imagineers are building a new theatre in Africa. This is the perfect place for it and the new theatre is designed for this one show so it will be even more amazing.
The bad – Even though I did not like Avatar lots of people did and a lot of them will visit Disney's Animal Kingdom to play in Pandora. This will bring more people to a park that tends to have low attendance. While that sounds good it will be a big change for those of us who visit the park because it is not crowded. I like not having to look around hundreds of people to see the animals and that might become a thing of the past.
and The Yeti – My favorite attraction at Disney's Animal Kingdom is Expedition Everest – Legend of the Forbidden Mountain. I always try to ride it first thing in the morning before the lines get long. When Avatarland opens the lines for Expedition Everest may be shorter for a while. That means I can see the Yeti more often. Awesome.
So bring it on. I have no problem with tall blue people invading Disney's Animal Kingdom. And who knows, maybe it will be so amazing that I'll want to visit it, too. Happiness squared.
Goofy Tip: Do you have a special dinner planned during your trip? If it is an evening reservation plan to visit Disney's Animal Kingdom the same day. The park closes early so you won't be missing anything in the evening. Also it is not an overly busy park so you won't be tiring yourself out during your visit.