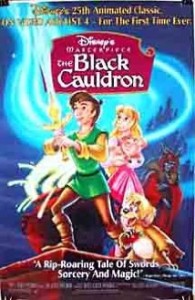 I am reading a series of books called The Chronicles of Prydain
by Lloyd Alexander. If you have not read this fantasy series I highly recommend it. It is a series for teenagers and it was written in the sixties, but none of that takes away from these thrilling stories that use Welsh legends as their inspiration. What other series has an Assistant Pig Keeper as the hero?
What does this series, great as it is, have to do with Disney? The animators at Disney must have loved these books as much as I do because they made one of the into a movie. Have you ever seen the The Black Cauldron? It is an animated Disney movie from 1985 and book two in the Chronicles of Prydain.
Now, it's not a horrible movie, but it was made during a decade of average animated movies, before The Little Mermaid resurrected Disney animation. However, I liked the movie when I was a kid and now that I have read the book I know why. It is a great adventure story featuring some wonderful characters and one that I know I will read time and time again. I have not seen the movie in years so I am curious to see if I enjoy as much as I did as a child. Video store, here I come (I'll probably find it on VHS.)
If you are looking for some great summer reading I recommend the Chronicles of Pyrdain: The Book of Three, The Black Cauldron, The Castle of Llyr, Taran Wanderer, and the High King (a Newberry Winner). I'll let you know what I think of the movie once I've seen it again. I'd love for you to watch it with me. Happiness squared.
Goofy Movie: If you would like a double feature with The Black Cauldron and want to enjoy the book, too, then check out The Great Mouse Detective
. I own this movie and have watched it hundreds of times. Oh, I also have the book. I love them both. I am definitely having a movie night with these two films. It is a perfect treat for the whole family.