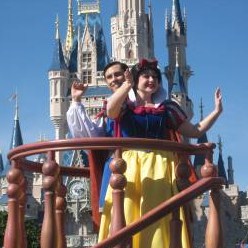 It always amazes me how perfect the parks look every time I visit. The flowers are always blooming, the walkways are always trash-free, and the paint is always looking fresh. How does Disney make this happen? It takes Cast Members. Lots and lots of dedicated cast members.
The Disney Parks Blog has created some neat videos called "Every Role a Starring Role at the Disneyland Resort." I have linked to a few of these and invite you to go behind the scenes and see how the magic of making magic happens. Happiness squared.
Goofy Joke: (In honor of the closing of Snow White's Scary Adventures at the Magic Kingdom here is a Dopey joke)
Q: Why did Dopey take a box of crayons with him into the bedroom?
A: Snow White asked him to draw the curtains