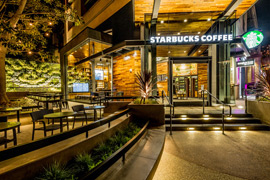 Hooray! Disneyland's Downtown Disney now has a Starbucks. This makes me very happy for reasons you may not expect. I know for some people Starbucks is a place to be avoided, but after hearing the reasons for my happiness you may be willing to check out this new Starbucks, too.
What are my reasons?
One, I don't drink coffee, but thanks to my coffee-loving friends I have spent many hours at various Starbucks around the country and I love the atmosphere. It is both friendly and solitary so it is a great place to hang with friends or by yourself.
Two, even though I do not drink coffee I do love their low-fat cinnamon coffee cake. Have you tried it? It is really tasty and just the right size.
Three, I don't want to take time out of my busy Disney day for a sit-down breakfast. I prefer to grab something that I can eat while standing in line. I only have a limited amount of time to visit the parks so multi-tasking is important.
Four, I like the familiar. Disney partners with lots of recognizable companies from Coca Cola to Nestle. It is fun to try new foods at the parks but it is also comforting to enjoy an old friend, like an ice cold Coca Cola, or a tall nonfat chai tea.
Hooray! When I am up early but the park is not I am glad I'll have a place to grab some breakfast that I know I'll enjoy. If you click here you can see some pictures of this newest addition to Downtown Disney. It is unlike any Starbucks you've every been to. If I see you there I'll share my low-fat cinnamon coffee cake with you. Happiness squared.
Goofy Tip: If Disneyland is open when you are looking for some breakfast stop by Maurice's Treats in Fantasy Faire for a strawberry twist and a Boysen Apple Freeze. These are two of the tastiest items in the park and both are very portable if you like your breakfast on the run.