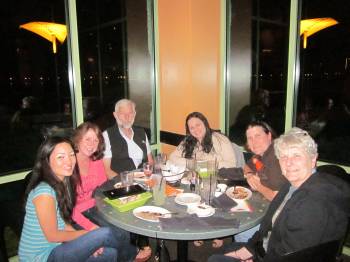 When my friends and family visit the Disney parks they often ask me where they should eat. I love eating at the Disney parks, but I tend to pick the the same restaurants every time I visit. I go there because I love the food and know I will have a good experience. But my favorite restaurant may not be the best choice for someone else.
For example, I love a good burger and so my choices lean toward restaurants that serve burgers and fries. That may not be what someone else is looking for. I'd like to expand my culinary expertise and I need your help. Below I have listed my 5 favorite restaurants at the Disneyland Resort and Walt Disney World. I'd love to learn your 5 favorites at these two parks. You can rate them or not (mine are not rated. I have too many favorites), but by seeing which ones are listed multiple times I'll know which restaurant to try on my next visit.
My five favorite restaurants at the Disneyland Resort:
1) Village Haus (Disneyland). I didn't like this restaurant as a child, but with their new menu the food is now really good.
2) Taste Pilots Grill (Disney California Adventure). If you love great toppings on your burger than this is the place to eat. They also serve beer if you need a break from the heat of the afternoon.
3) Big Thunder Ranch Barbecue (Disneyland). Good food with a great atmosphere. I love the corn bread and the toe-tapping entertainment.
4) Cozy Cone Motel (Disney California Adventure). There are so many good choices here that I have a hard time deciding. Everything we tried was awesome.
5) Rancho del Zocalo Restaurante (Disneyland). I have liked this restaurant since it was Casa Mexicana. Just good Mexican food and not huge portions.
My five favorite restaurants at Walt Disney World:
1) The Hollywood Brown Derby (Disney's Hollywood Studios). This restaurant is expensive, but the food and the atmosphere are amazing. I always save room for their grapefruit cake.
2) Mama Melrose's Ristorante Italiano (Disney's Hollywood Studios). Great Italian food. This restaurant is always busy so I recommend reservations.
3) Rose and Crown Pub (England Pavilion, EPCOT). I love English food and this pub has a very authentic menu. The pub is on the water so you have nice views of World Showcase.
4) Peco's Bill Tall Tale Inn and Cafe (Magic Kingdom). Great burgers and other good lunch items.
5) T-Rex (Downtown Disney). Good variety of dishes and dinosaurs. I am in love. This restaurant is not for those wanting a quiet meal so be prepared for roaring animals and meteor showers.
As you can tell I tend to like a good burger, but I am open to trying anything. I would especially like to learn about restaurants at Disney California Adventure and Disney's Animal Kingdom. I have not found many good restaurants at these parks.
Where do you like to eat when you visit the parks? Leave a suggestion in the comments, on my Facebook page, or by sending me an email. Trying new restaurants is one of my favorite things to do when visiting the Disney parks. Happiness squared.
Goofy Tip: Before you leave on your Disney vacation pick a few restaurants that you would like to try out. You can then review the menus (with descriptions) for each of them at the Dis, a in-depth unofficial Disney website. This great resource was especially helpful when I was planning a vacation for someone with food allergies. They have menus for Walt Disney World and Disneyland Resort restaurants.