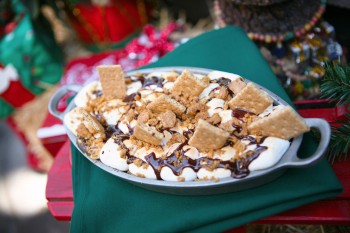 August is a great time to go camping and camping is a great reason to make s'mores. Wait! You need a reason to make s'mores? I'd eat s'mores anywhere, anytime. The only problem is that you usually need a campfire to make s'mores (although I once toasted marshmallows over a votive candle in my living room. Worked great!) But Disney has solved our s'more making problem…with brownies.
I don't know if you can still get this decadent dessert at the Big Thunder Ranch Barbecue at Disneyland but thanks to Disney Insider you can enjoy this fun and tasty variation on s'mores anytime you want. You don't even have to plan a camping trip…although I bet this would be wonderful baked in a Dutch oven over the coals. It would be the best of all worlds. Happiness squared.
Serves 8
Ingredients
1 (10.5-ounce) box fudge brownie mix (and the necessary ingredients to prepare brownies)
1 (1-pound) bag large marshmallows
1/4 cup plus 2 tablespoons hot fudge sauce, warmed
8 graham crackers
Directions
Preheat oven to 375°F. Spray a 9×13 cake pan with cooking spray. Prepare brownie batter per package directions and pour into prepared cake pan. Bake 20 to 22 minutes, or until a wooden pick inserted in the center comes out with moist crumbs clinging to it.
Turn oven to broil.
Place marshmallows over brownies. Leaving oven door ajar, place marshmallow-topped brownies under broiler 1 1/2 to 2 minutes or until marshmallows are golden brown, watching very closely to avoid burning.
Drizzle hot fudge sauce over top of toasted marshmallows.
Take half of the graham crackers and break them into planks; crush other half of graham crackers into crumbs.
Sprinkle crushed graham crackers over top of toasted marshmallows, and place graham cracker planks randomly into toasted marshmallows. Serve immediately.
Goofy Tip: Even if you can't get the S'mores Bake at Big Thunder Ranch Barbecue this is still a great place to eat at Disneyland. The food is filling and delicious, it has a relaxed atmosphere where kids don't have to be little adults, and there is great western entertainment throughout the evening. So put on your cowboy hat and kick up your heels for an old-fashioned good meal.