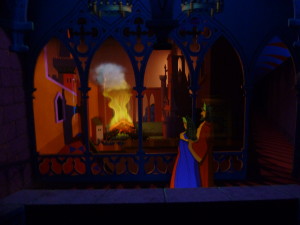 Sleeping Beauty was released today in 1959. This is my favorite Walt Disney era princess movie. I separate Disney movies as "Before Little Mermaid" (BLM) and "After Little Mermaid" (ALM.) My favorite ALM movie is Tangled.
But back to Sleeping Beauty. This was a project that Walt Disney poured his heart, soul, and bank account into. He was looking for a certain look and it was really expensive to pull off. When it was released it wasn't loved immediately because it had no singing mice or other familiar princess tropes. However, I love the look of this movie and I love Prince Phillip.
This movie may be called Sleeping Beauty, but Princess Aurora was only seen in 18 minutes of the movie and only had 18 lines. She does have two great songs, though. Mostly this movie is about Maleficent and Prince Phillip. That might be why it is my favorite BLM movie. Happiness squared.
Fun Trivia about Sleeping Beauty (found at IMDb):
Princess Aurora's long, thin, willowy body shape was inspired by that of Audrey Hepburn.
The prince is named after Prince Philip, the Duke of Edinburgh.
When the fairies discuss how to help the king and queen, Merryweather makes cookies in the shape of Mickey Mouse.
Even though it is not mentioned in the film, Maleficent's pet raven is named Diablo.
A flame-thrower was used to create the dragon breath sound effect for the climax of the movie. Castanets were used for the sound of its snapping jaws.
In the traditional Italian version of this fairy tale, the Sleeping Beauty is named Princess Aurora. In the German version, she is named Briar Rose. The film incorporates both names by having Princess Aurora use the name Briar Rose while undercover.
Princess Aurora's mother does not have a name in the movie, but in promotional materials she is named Queen Leah.
At the time, it was the most expensive Disney animation. Although it was a hit on its initial release, it still didn't gross enough to recoup its $6 million outlay.
During the transition screen to Maleficent's castle, where Prince Philip has been taken, with the fog/clouds swirling about, you can see that the wisps make the faces of skulls.
Goofy Tip: There is a wonderful attraction at Disneyland that is overlooked by most Guests. Inside Sleeping Beauty Castle is a walkthrough that tells the story of Sleeping Beauty in detailed dioramas. The artwork is beautiful and there are surprises around every corner. It is always cool inside the castle and a great place to escape the heat and the crowds.