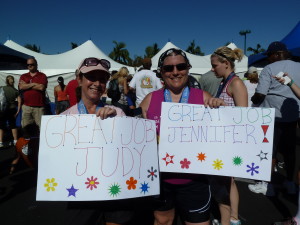 I have written a lot about the Dumbo Double Dare happening during the Disneyland Half Marathon. I have been planning to run this challenge for a long time and registration day is finally here. At the Disneyland Half Marathon weekend (August 29-31) you can run a 10k, a half marathon, or both. I want to do both. That is the Dumbo Double Dare. Last year it filled up in 36 hours. Wowzer!
Registration opens January 28 at noon EST. I will be registering as soon as it opens. If you would like to run any of these races I suggest signing up as soon as possible. This is a very popular race weekend. Don't wait! Join me in the craziness. Anyone can do a 10k and it is so much fun. Happiness squared.
Goofy Tip: Maybe you are not a runner. Maybe you refuse to take one step. You can still participate. Consider being a spectator or a volunteer through runDisney. Races don't happen without them and runners love them. And if you officially sign up to be a Cheer squad or volunteer you get a cool T-shirt and the love of 15,000 runners.