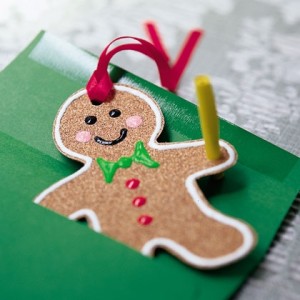 Christmas cards are fraught with problems. If you don't send any then you feel guilty when you receive some from friends and family. If you type up a nice family letter you hear that it is considered bragging. The photo cards are nice, but they take planning and it is already after Thanksgiving. You could just send an email card, but they are hard for people to enjoy the whole season. What is the answer?
My answer is to do whatever you want. It is the thought that counts. But if you want to send cards that everyone is sure to love consider having your kids make cards. This is easier than it sounds. While the kids are home for Thanksgiving break pull out the paper, the crayons, the scissors, and the glue. And if you need some ideas check out these cards from spoonful.com.
Any card made by a child is special and they cannot do it wrong. If you want to make lots of cards that are the same, like the gingerbread man card, you can set it up assembly-line style. I really like these cards because they are made with sandpaper and I think that is so inventive. They also have cinnamon and nutmeg rubbed on the sandpaper so they smell good and the card becomes an ornament. If you didn't want to add the scroll you could just write on the back of the gingerbread man. Any of these cards can be adapted to your needs. That is part of the fun of making handmade cards. They are perfect in every way.
In one afternoon you can have all your cards ready to go. As a reward for being so organized you can make a fun card holder for your own house. I like the one made with an upside down tomato stake. Talk about creative! You'll need it because when everyone receives your awesome card they will feel guilty and send a card back to you. Happiness squared.
Goofy Craft: If you are super organized get the perfect Christmas card photo while you are visiting the Disney parks during the year. Pack Santa hats in your backpack and find the perfect backdrop. Everyone dons a hat and you have your picture. With a little planning you can end your Christmas card stress!