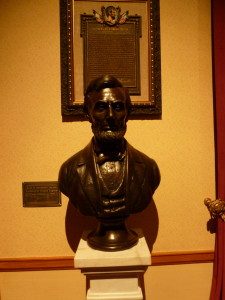 Today, February 12, is Abraham Lincoln's birthday. When I was a child this day was a school holiday along with Washington's birthday, but now we have President's Day so we only get one day off to celebrate all the presidents. Oh well. Since today is Lincoln's birthday I wanted to do a post about it.
Every topic I could think of about Walt Disney and Abraham Lincoln has been done a million times. If you don't believe me just type those two names together into Google. There are a ton of articles. So I decided to go a different route. I want to help save Lincoln.
Actually I want to help you save lots of Lincolns. Lincoln is found on the penny and the five dollar bill. If you visit the Disney parks you'll be spending lots of Lincolns. So today, in honor of one of the people who grace our currency I thought I would give you five easy ways to save Lincoln.
Five ways to save pennies and fivers:
1) Smash a penny. While this hobby will actually cost you fifty-one cents it will save you lots of pennies and fivers because you won't have to collect other items that are much more expensive, like pins or Vynlmation.
2) Buy Disney clothes at the Disney Outlet Stores. I found awesome adult-sized Disney shirts for seven dollars at the Disney outlet Store in Las Vegas, NV. These same shirts cost twenty-four dollars in the parks. These were authentic Disney shirts, too, not other brands. That will save you a lot of Lincolns.
3) Bring snacks to the parks. The food at the parks is great but it can be expensive. Save your money for a special meal and bring snacks from home to enjoy when you get the three o'clock munchies.
4) Share a snack. Maybe you can't resist the smell of popcorn or churros, or a wonderfully decorated cupcake has caught you eye. Feel free to splurge but save some Lincolns by sharing your treat with someone else. Most Disney snacks are huge so you'll be saving money and calories.
5) Plan for the weather. There is never a bad time to visit the parks but if you are unprepared you might end up spending money on rain ponchos instead of souvenirs you really wanted. If you are going to be in the parks after dark remember it can be cool, even on warm days. If you plan ahead and bring what you need you'll save lots of Lincolns.
So celebrate Lincoln's birthday by saving some money. Lincoln was a frugal man who would approve of your thriftiness. You can always put your savings toward another trip to the Disney parks. Happiness squared.
Goofy Tip: It goes without saying that if you are at Disneyland you should go see Great Moments with Mr. Lincoln. This attraction has been opened, closed, and updated many times. It is still around because it is a stirring tribute to a great man and a great country. I never miss it.