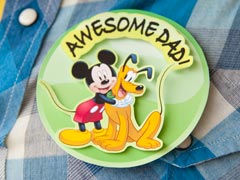 Are you looking for a way to show Dad how special he is? Is he hard to shop for? Are you considering buying him another tie? Step away from the neckwear and check out the great gift ideas at Familyfun.com. From key-chains to picture frames to coupons these gifts are sure to be a hit, and the best part is that they are homemade.
Here are five ways to make Father's Day special from morning to night. Take a look at the website (click here) to see pictures of these fun ideas and a lot more.
1) When you bring Dad breakfast in bed have a "Awesome Dad" button on the tray for him to wear all day long.
2) Put a Mickey Mouse tie in his dressing area so he can wear it to church or out to dinner.
3) At lunch present him with an Incredibles Father's Day card and cupcakes.
4) In the afternoon, spend some time with you dad working on a fun coloring page.
5) At dinner, present him with his own crown, a King Stephen Father's Day card, and Dad coupons. Have your picture taken with your Dad and put it in a frame made by you.
With these goofy ideas and all the other printables you can find at Family Fun this is sure to be a Father's Day he won't forget. And don't you forget that Father's Day is June 17. Happiness squared.
Goofy Trivia: Happy Birthday, Donald Duck! His first appearance in a cartoon was on June 9, 1934. As I was fact checking this I found a website that disputes the date of his birthday. It was fun to read so check it out here. No matter how Donald Duck's birthday is calculated I think he is a duck worth celebrating. Happy birthday to you!