Limited Time Magic: I wish I was visiting the Disneyland Resort or Walt Disney World this week. From March 18 to March 24 Guests will be able to purchase an Easter egg map and then hunt for characters that relate to Easter egg stickers that come with the map. When you turn in your map you get a surprise. I love scavenger hunts. If you do too than click here to get all the details.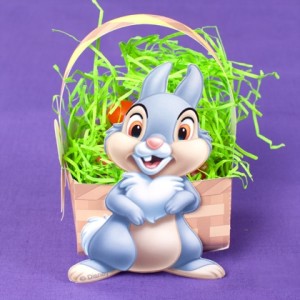 Easter is March 31 this year so I have St. Patrick's Day and Easter decorations up at the same time. My green decorations are coming down so I am looking for more fun Easter decorations. As always spoonful.com comes to the rescue with their Disney Easter printables.
If you like to decorate eggs than you need to check out these ideas. Some of them are quite elaborate like the Buzz Lightyear egg. I have no talent with decorating Easter eggs so I like the Disney Easter egg stands.
Mickey Mouse is festive year round, but Easter still makes me think of rabbits so my favorite crafts have Thumper on them. Thumper is the cute bunny from Bambi. ("I'm thumpin'. That's why they call me Thumper.") I'd love to fill the Thumper basket with plastic eggs filled with pastel m&m's.
With 48 craft ideas there is something for everyone. My favorite thing to do is invite people over and decorate eggs. By using these ideas you'll have the best looking eggs on Easter morning. Happiness squared.
Goofy Craft: Would you like to have an Easter party? Spoonful.com has everything you need from invitations and crafts to games and food. Click here to see all the fun ideas. These ideas would also work great for anyone having a birthday party near Easter.



For great tips that you can take with you on your tablet or smart phone download the Kindle app and buy a copy of Goofy Tips for a Happy Disney Vacation
. For 99 cents you'll have hundreds of great ideas for visiting the Disney Parks only an app away.