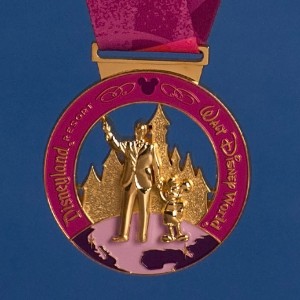 I love to run races at the Disney parks. Besides the fun of running a race, the medals are amazing, the support is thorough, and I get to spend lots of time in the parks before and after the race. Perfect. I hope that someday everyone will try a Disney race. They are adding more short runs so anyone can earn a cool medal and have lots of bragging rights. This week I am thrilled to share some exciting news about new challenges coming to RunDisney.
I already told you about the Dumbo Double Dare happening at Disneyland on Labor Day 2013. A new race has come to Walt Disney World and along with it two new challenges. A 10k has been added to the Princess Half Marathon weekend in February 2014. If you run both the 10K on Saturday and the half on Sunday then you will earn the Disney Glass Slipper medal along with the medal from each race. Awesome!!!
As if that wasn't enough, starting in 2014, if you run the Tinker Bell Half Marathon at Disneyland in January and the Princess half marathon in February 2014 then you receive a special Coast t0 Coast medal. It looks like the traditional one but the ring is pink instead of blue. Super awesome!!!
If you are interested in earning these new medals plan to sign up as soon as registration opens in June. These races are going to fill up fast. Since I will be doing the Dumbo Double Dare in 2014 I am planning to do these new challenges in 2015. Who wants to join me? Happiness squared.
Goofy Tip: When you sign up for a RunDisney event you save a lot of money on your resort rooms and park tickets. This savings can be used for anyone in your group, whether they are runners or not, so a race weekend is a great time to invite lots of friends and family to play in the parks with you.