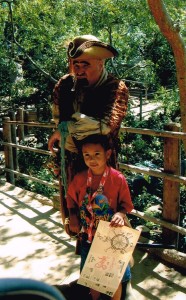 One of the biggest goals in my bucket list is to visit all the Disney parks around the world (when they put one on the Moon, I'll say around the Universe.) Shanghai Disneyland is being built as we speak and the more I hear about it the more I want to visit it first.
Most of the time I learn about cool Disney items by searching my favorite websites. My best friend, Rhonda, brought this to my attention. Most Disney parks have a pirates' ride. Shanghai Disneyland is going to have a pirates' land. Yo Ho! Yo Ho! Now we can all have a pirate's life.
This post from Theme Park Tourist shows what this new land will look like. Like lands that so many parks are creating I think Guests will feel like they entered the Pirates of the Caribbean movies, which will be awesome.
Shanghai Disneyland is set to open in 2015 and it may be years before I get to visit but I know I'll love every part of it when I do. Who wants to come with me? Happiness squared.
Goofy Fun: If Pirates of the Caribbean is your favorite ride, like it is mine, you can help it win during the March Magic competition. Like March Madness different attractions from Disneyland and Walt Disney World will face off and you can vote for your favorite on Facebook. But there can only be one winner and I am rooting for Disneyland's Pirates of the Caribbean.