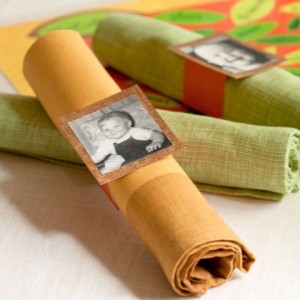 One of my favorite things to make for a special family dinner are place cards. If you are celebrating Thanksgiving with a big turkey dinner why not make some place cards for your guests? There are hundreds of ways to make place cards, but I like to make cards that people will notice and hopefully talk about. One easy way to do this is use photos from your Disney vacation.
A basic place card is easy to make. Take a piece of colored paper the size of a small index card and fold it in half length-wise. Congratulations, you have a place card. The magic comes with what you do next. This is a great way to get the kids involved in decorating the table.  I am providing three ideas for using your Disney photos, but there are as many ways to make place cards as there are turkeys being eaten on Thanksgiving. Go ahead and make them your own way.
3 ways to design a fun Disney photo place card:
1) Use a photo of each person coming to your table. This works best if you have a Disney photo of everyone coming for dinner. Cut the photo into a 2 inch square. Cut it a bit smaller if you want to mat it. Attach the photo to the place card. You can write the person's name on the card, but there is no need. Instead you can decorate the card with stickers or a hand-drawn turkey.
2) Use a photo of the person's favorite attraction or character. This can be a fun game if you don't add their name to the card. Can they figure out which place card is theirs?
3) Use a photo of a special memory from your trip. If you use a memory photo than you should write the person's name on the card. While you are eating dinner ask each person to talk about the memory that the photo brings back. Thanksgiving is all about remembering people and events that we are thankful for. I am always thankful that I can spend time with my friends and family at the Disney parks.
There are a lot more ways that your Disney vacation photos can be used as place cards. Perhaps instead of the person's name you can use a Thanksgiving quote. Then everyone can read their quote. Whatever you decide to do these place cards with be a nice keepsake that everyone can take home and display like a framed photo. Then the memory of both your Disney vacation and your Thanksgiving celebration will be remembered. Happiness Squared.
Disney Craft: For another way to make a place card check out these napkin rings from spoonful.com. They are an unexpected way to help people find their seats. Once the ring is off the napkin it will stand up well and become a picture frame on its own. Clever!