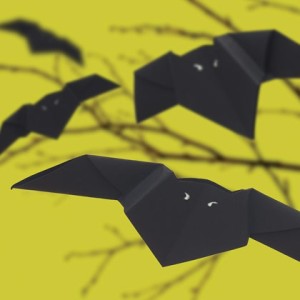 I love Autumn. I love Halloween. So it makes sense that I love October. It's also my birthday month but I'm sure that has nothing to do with it. One thing I love to do in October is decorate my house from top to bottom. I have so many fun decorations and I am always looking for more. Being a crafty person if I can make a decoration than I want to. This year I am going batty thanks to spoonful.com.
Spoonful.com is Disney's go-to website for family-oriented crafts and recipes and their Halloween crafts are too fun. My absolute favorite this year are the origami bats. I just don't think I can have too many. They are so easy to make (they only have five steps) and how fun would it be to hang them all over, high and low? Plus these can be made as a class art project or at a Halloween party. I love ideas this easy, this versatile, and this fun. Plus bats are spooky which makes them perfect for Halloween. I'm ready to go batty, how about you? Happiness squared.
Goofy Tip: If you want some batty fun at Disneyland than head over to the Halloween Carnival at the Big Thunder Ranch Jamboree. There are a ton of fun Halloween activities there including a coloring area where you can color a mask for Halloween. They have witches, cats, and spiders, but I chose the bat. There is no need to ask why.