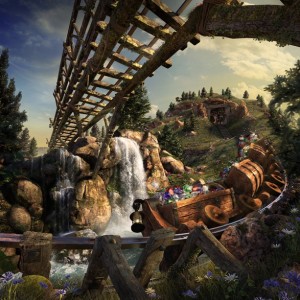 New Fantasyland at the Magic Kingdom has been open for a while and it seems to be very popular. I have not visited yet so I am trusting other people's reviews. Even though the land was open there was one important attraction missing. The Seven Dwarfs Mine Train was under construction. It is now finished and everyone can check it out in this short video.
I look forward to visiting New Fantasyland now that it is complete. I plan on exploring everything to see what is worth a repeat visit and what isn't. At first glance this ride looks like a variation on Big Thunder Mountain Railroad but with swinging ore cars. I bet it will be a ton of fun.
Disney often repeats the ideas that work, like Dumbo the Flying Elephant and Astro Orbiter. If I love Big Thunder Mountain (and I do, don't you?) I'm sure I'll love the Seven Dwarfs Mine Train. I think it would be even more fun if we could each be a dwarf working in the mine. I'd be Dopey. Happiness squared.
Goofy Tip: It goes without saying that any new attraction or area is going to get very crowded very quickly. To avoid standing in lines use Fastpass+ on these attractions or arrive first thing in the morning. If the lines are hours long remember that the attraction will be around for many years. Decide if it is worth it to stand in line or go do something else. If long lines make you more Grumpy than Happy I would suggest the latter.