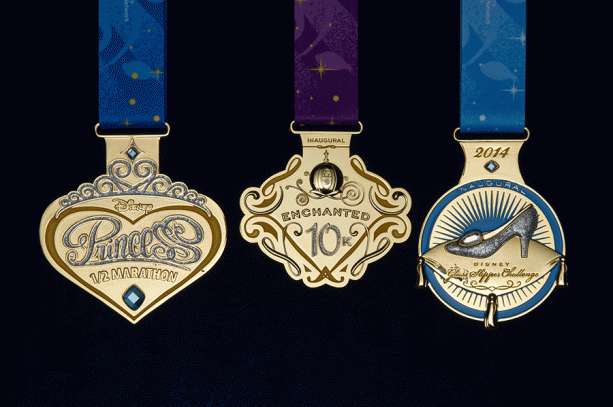 It's Friday and the weekend is hiding right around the corner. What are your plans? I want to sit on the couch with a warm cup of cocoa and a good movie. But I'm not going to. I am going to go for a run.
Now I would be the first to admit that I don't run because I like it. I run because I like to do races and I do races because I love the medals. RunDisney has released the new designs for the 2014 Princess  and Tinker Bell Half Marathons. I already have two Princess medals and I love the new designs. I won't be running these races until 2015 but just looking at these medals makes me want to run.
So go outside this weekend. Run, walk, or hike, but spend time exercising in the great outdoors. And if a medal isn't enough to motivate you  think of how delicious that cocoa will taste when you head back inside to the couch. Happiness squared.
Goofy Tip: You may not be a runner, but I know you can walk, and if you can walk then you can do a race. Jeff Galloway, the official coach for runDisney promotes a run/walk pace for all races. By following his method anyone can finish a race and earn a medal.