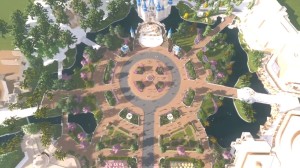 Before I explain how Disney is changing the hub at the Magic Kingdom (I don't have to explain why, Disney loves to improve the parks) I want to explain what the hub is. Walt Disney wanted Guests to be able to visit any part of the park whenever they wanted to so he designed Disneyland with a wheel and spoke design. The Magic Kingdom also follows this design.
Once you enter the park and walk down Main Street, U.S.A. you enter a circular area. You know you're there when you see the statue of Walt and Mickey. This is the hub. Ahead of you is Cinderella Castle and coming off this area, like the spokes on a wheel, are the pathways to the different lands. This is a clever design and makes the hub a popular place. It is also a great place to watch the show performed in front of the castle and to see the fireworks.
The hub has become a crowded mess at times and now Disney plans to change the design so that traffic can flow better and there will be more viewing space for the shows. I like the new open design they are considering as it doesn't detract from the feel of Main Street, but takes the crowds into consideration. As I wander around the parks I spend lots of time in the hub and I'm sure other people do, too. The next time you visit see if you can notice the difference. If it feels less crowded and more accessible than I guess the change worked. Happiness squared.
Goofy Tip: If you plan to leave the Magic Kingdom as soon as the fireworks are over consider watching the show from the other circle on Main Street, U.S.A., the Town Square. This is the area by the train station where the statue of Roy Disney and Minnie is. In fact if you can get a seat near the statue you'll have a great view of the fireworks. When the show is over you'll be one of the first Guests out the gate.