Happy 56th 66th birthday, Hayley Mills.  She was born on April 18, 1946. Ever since I saw Pollyanna as a child I have loved her as an actress.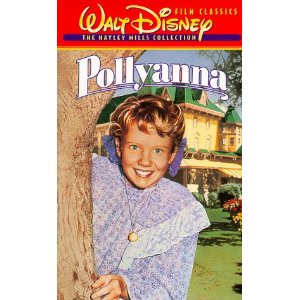 It comes as no surprise to those who know me that I am quite a Pollyanna. When I learned about the Glad Game from the movie I started looking for the good in everything. What is the Glad Game? In the movie Pollyanna tells a story about receiving a pair of crutches in the missionary barrels when what she wanted was a doll. Her father told her to play the Glad Game and find something good about the crutches. They decided to be glad that they did not need to use the crutches. And the Glad Game was born.  Yes, I admit it. I am a die-hard Pollyanna.
During her time with Disney Hayley Mills starred in several movies. While the movies are family classics the songs performed in these movies have become Disney favorites. In honor of Hayley Mills's birthday make a batch of popcorn and watch one of these fun family movies.
My top five Hayley Mills movies:
5. In Search of the Castaways (1962)
4. That Darn Cat (1965)
3 Summer Magic (1963)
2. The Parent Trap (starring Hayley Mills and Hayley Mills)  (1961)
1. (You guessed it) Pollyanna (1960)
What is your favorite Hayley Mills film?
Goofy Tip: If you want to see a little Hayley Mills magic in the parks, check out the Emporium at the Magic Kingdom. The store is decorated like a turn of the century general store and there are decorative items from Summer Magic throughout. On the window by the door it states that Osh Popham, played by Burl Ives in Summer Magic, owns the Emporium.