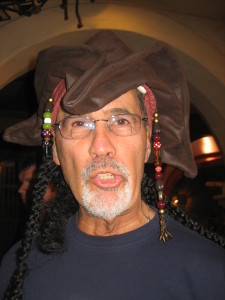 I like fast rides like Space Mountain and Big Thunder Mountain Railroad. I like fun rides like the Mad Tea Party and the Jungle Cruise. But hands down my favorite ride at any Disney park is Pirates of the Caribbean. I have wanted to write about this attraction for a long time but I could never figure out why I love this ride. Well, December 15th was Pirate's 40th anniversary so I thought this would be the perfect time to wax poetic about why I never miss this attraction no matter how long the line is.
The truth is I don't know why I love this ride. It is not the only ride that uses audio-animatronic characters. It is not the only ride that uses a boat. It is not the only dark ride. The best I can say is that it is the only ride that has pirates, not historically accurate, mean killers, but fun swashbuckling scallywags. I have always liked pirates (who doesn't?) and often dressed up as a pirate for Halloween. As an adult, acting like a pirate is discouraged, but deep inside I wish I could be as free and fun-loving as a pirate (without the slaying and stealing, of course.)
I don't know if that is the real reason I love Pirates of the Caribbean and I have decided I'm not going to worry about why it is my favorite. I'm just going to ride it every chance I get. Happiness squared.
Goofy Video: Walt Disney was very involved in the creation of Pirates of the Caribbean and that may be why it is so popular. If you want to hear Walt Disney talk about his ideas for this attraction check out this five minute YouTube video. After watching it I liked the attraction even more. It is amazing how much work goes into making these rides.