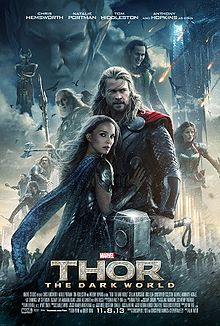 I know, I know. More Marvel news? What about Mickey Mouse? Where are the Disney Princesses? I used to be in the 'I don't care about Marvel' crowd, and now I am in the 'Hurry up and get the next Marvel movie out' crowd. I don't know if these movies are so good because Disney owns Marvel, but I love that I get to talk about them because Disney owns Marvel.
The trailer for the newest Thor movie has been released and now I can't wait for this movie. Click here to see the trailer thanks to The Disney Blog. I was talking about Thor with a friend who knows ten thousand time more stuff about Marvel than I do and he said this movie was going to be successful because it was about one bad guy trying to destroy the universe. Because it has such a straightforward plot more time can be spend on character development and amazingly witty dialogue. If the trailer is any hint, the dialogue is going to be the best part of this movie. If you saw The Avengers you know what I mean.
So take a break this Friday and check out the trailer for Thor: The Dark World. Then go watch the first Thor movie and The Avengers so you are caught up on the plot. Or do it because they are fun movies and it's a great way to spend the weekend. Happiness squared.
Goofy Tip: There is some debate as to whether the Marvel characters should come to the Disney Parks. I don't think I want them walking down Main Street, U.S.A., but it would be cool to have them in Disney California Adventure or Disney's Hollywood Studios. Of course Iron Man has infiltrated Disneyland's Tomorrowland and that worked out well. Now you can see Captain America on the cruise ship the Disney Magic. I think this is a great idea although I would worry that some supervillian would be visiting the ship, too. Nothing good ever happens in the movies when that happens.