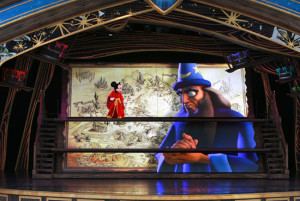 The Magic Kingdom may have New Fantasyland, but Disney has not forgotten Disneyland. First there was Fantasy Faire and now a new show featuring Mickey Mouse and Yen Sid at the refurbished Fantasyland Theatre. You don't know who Yen Sid is? He's the sorcerer from Fantasia. You know, the one with the hat. If you look at his name carefully you'll see that it is Disney spelled backwards. Awesome!
Mickey and the Magical Map features lots of your favorite Disney characters with tons of fun stage effects. My favorite part of this new show is that a lot of the performers' costumes are based on Steampunk. I love Steampunk. Don't you love Steampunk? Wait. You don't know what Steampunk is? Trust me, you know. It is all around you when you are in Tomorrowland. Let me explain.
Steampunk is a world built around the stories of Jules Verne and H.G. Wells. Think airships and cutting edge technology, all run with steam and clockwork. Think lots of brass and cogs and tubing. Think top hats and corsets on the outside of blouses. Think modern blending with Victorian. But that is just the beginning. For some it is much more. Some add monsters, fairies, magic, and anything they can come up with. Steampunk welcomes it all.
So if you have been to Tomorrowland than you have seen one version of Steampunk. And when you go see Mickey and the Magical Map you'll see another. I can't wait to see this show. I expect it to be as enjoyable as other Disney shows I've seen with a dash of the unexpected. Happiness squared.
Goofy Book: Steampunk and Disney blend well together. Just ask Brian Kesinger, a Disney animator who has his own line of Steampunk artwork, called Tea Girls. His most popular series features Victoria and her pet octopus, Otto. In fact, Brian has just published his first book featuring these two called Walking Your Octopus: A Guidebook to the Domesticated Cephalopod
. It is available in book
form and as an app so have fun exploring the steampunk world with a Disney animator as your guide.