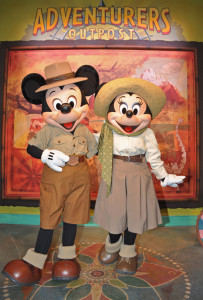 One of my favorite memories from my last trip to Disneyland was meeting Mickey Mouse at his house in Mickey's Toontown. We had entered the park early and were in Mickey's Toontown just as the park opened for the general public. Mickey was standing on his porch waving at Guests. There was no line and we got a lot of great pictures. It was a magical way to start the day.
I had not had my picture taken with Mickey Mouse for many years because I didn't want to stand in line. I mean there are other characters around, right? Well, yes and no. There are other characters who might have a shorter line, but here is only one Mickey Mouse. I look forward to visiting him again.
Mickey and Minnie have a fun new spot to greet Guests at Disney's Animal Kingdom. At the Adventurers Outpost you can get your picture with both of them against a postcard backdrop. This sounds like a great memory making opportunity. The line and the meet and greet are all inside so you can be cool while you wait. There are fun items to look at in line, plus there is a Fastpass option if you want to skip the line. And last it sounds like you get to spend time with the famous duo before your picture is taken. That is how great memories are made.
My favorite part of this new meet and greet is that Disney's Animal Kingdom is a slower park so I won't mind taking the time to see Mickey and Minnie. I can't wait to visit and add more great pictures to my scrapbook. Happiness squared.
Goofy Joke:
Q: How did Mickey feel when he first saw Minnie?
A: It was glove at first sight.