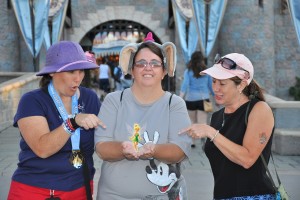 When I visited Disneyland in 2012 I tried out Photopass+, which was a new program that saved you money on Disney photos. My group had a ton of great pictures taken by Disney photographers, way more than I would have taken if I was not using Photopass+. For the cost of the program I received a disc that contained every photo taken by the Disney photographers, all our ride photos (individually they are around $15 each) and a large number of stock photos of Disney characters and the new characters at Cars Land. I felt that I got a great deal and it was fun to put those professional pictures in my album and share them with my friends.
Since Photopass+ started technology has changed so Walt Disney World has rolled out Memory Maker. It is very similar to Photopass+ but you can download the pictures to your computer, tablet, or phone since all the pictures are 100% digital. The photos also connects to My Disney Experience which is the program that allows you to customize your visit.
Right now you can get Memory Maker for $149, which is $50 off. I think this is a bargain. While you are at the parks you can focus on getting great pictures of your entire group and not have to worry about how much each picture will cost. Once you get home simply download all the picture and share them however you wish. It really is a great way to make memories. Happiness squared.
Goofy Tip: Even though Memory Maker is a great program I would still carry at least one camera with your group. There are lots of photo opportunities that do not have Disney photographers standing nearby. And of course there are always selfies. My selfies are usually awful but no one takes a bad selfie wearing mouse ears.