Main Street, U.S.A. is often the forgotten land. We might browse through some stores, watch a parade, or grab a baked good, but I think for most of us, the walk up Main Street is simply a way to get to the rides. In my new series, Meet Me Tonight On Main Street I am going to slow us down and take a closer look at the details waiting to be discovered. Come stroll with me as we explore Walt Disney's dream.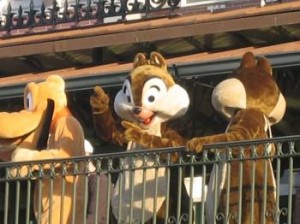 I hope you enjoyed this stroll down Main Street, U.S.A. There a lot more to discover than what I uncovered with these posts. Go explore this beloved homage to the past and share what you find with everyone in your group. Be sure to wander down the side streets. You never know what you may find; perhaps a fantastic photo opportunity. Main Street, U.S.A. could become one of your favorite areas in the parks.
At the beginning of each post I copied a few lines from the song "Meet Me Down on Main Street." This is the official song of Main Street, U.S.A. and is often sung by the barbershop quartet, the Dapper Dans. Here is the entire song.
Main Street, Main Street Meet me tonight on Main Street   'Cause we've got a date tonight at eight So meet me down on Main Street Please don't be late, don't make me wait Just meet me down on Main Street   We'll take a ride on an old horse car I'll buy you a chocolate bar And you'll be the sweetest girl by far Down on old Main Street   Oh, the firemen's band is gonna play So meet me down on Main Street They'll play ta-ra-ra boom-de-ay Parading down on Main Street   We'll pause a while at the popcorn stand What an evening, ain't it grand? Our little hometown is a fairyland Down on old Main Street   Old Main Street  
The complete posts for Meet Me Down on Main Street:
Goofy Tip: I've told this story before, but it is so much fun that I am going to relate it again. One of fun things to do at the Disney parks is to people watch. And a great place to rest on a bench and watch the other Guests is on Main Street, U.S.A.
After a busy morning hurrying around the Magic Kingdom my family bought some sodas and popcorn and collapsed on an empty bench on the Hub. As we sat there sharing our popcorn and cooling off a Guest walked up to Cinderella Castle. He placed his disposable soda cup on top of his bald head and proceeded to take a picture of the castle. We all scrambled for our cameras, but he took his photo, removed his cup from its convenient cup holder, and walked away before any of us to get a shot. To this day we still talk about this unique Guest. We would never had believed it if we hadn't seen it with our own eyes. It was a highlight of the day.