We'll pause a while at the popcorn stand What an evening, ain't it grand Our little hometown is a fairyland Down on old Main Street Old Main Street Lyrics from "Meet Me Down on Main Street"  
 Main Street, U.S.A. is often the forgotten land. We might browse through some stores, watch a parade, or grab a baked good, but I think for most of us, the walk up Main Street is simply a way to get to the rides. In my new series, Meet Me Tonight On Main Street I am going to slow us down and take a closer look at the details waiting to be discovered. Come stroll with me as we explore Walt Disney's dream. Today we are discovering the statues.
It is said that two heads are better than one, and sometimes two brothers are better than one. Walt Disney was a visionary, but he needed his brother, Roy, to raise the money so that his expensive ideas could become reality. Without both brothers there would not be any Disney parks to visit and I would be doing a blog about accounting. (I'm so glad there were two Disney brothers.) It only seems fair that they should both be honored for their distinctive contributions to the Disney parks.
At Disneyland there is one statue on Main Street at the Hub and it is of Walt Disney and Mickey Mouse. It appears that Walt Disney is showing Mickey Mouse the amazing world that "started with a mouse." A similar statue stands at the Hub in the Magic Kingdom. Next to the castles these statues might be the most photographed objects in the parks.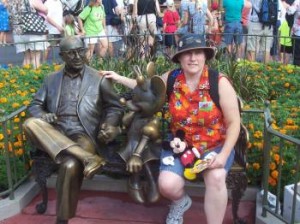 What is less known is that there is a second statue on Main Street, U.S.A. in the Magic Kingdom. Between the flag pole and the Train Station in Town Square there is a statue of Roy Disney. He is sitting on a bench with Minnie Mouse. This is my favorite statue. To me it speaks volume about who Roy Disney was. He was just as important to the Disney parks as his brother, Walt, but he worked best in the background while Walt liked to be center stage.
Goofy Trivia: Walt Disney died in 1966, before Walt Disney World was finished. Without Roy stepping in to keep his brother's dream alive the Florida parks might never have been completed. The area was originally going to be called Disney World, but Roy changed it to Walt Disney World. When the Magic Kingdom opened in 1971 Roy said the following words:
May Walt Disney World bring Joy and Inspiration and New Knowledge to all who come to this happy place … a Magic Kingdom where the young at heart of all ages can laugh and play and learn – together."