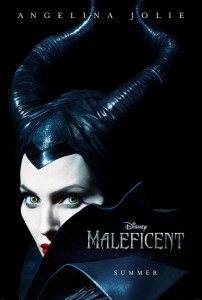 I don't know what to think about the movie Maleficent. She is my favorite Disney villain because she is really evil. In Sleeping Beauty she causes major havoc because of a small slight. This always worked for me. Prince Phillip is good and noble and Maleficent is mean and evil. I like knowing where the lines are drawn.
Now my favorite villain is getting her own movie and we'll learn how she became evil, mean, wicked, bad, and nasty (thank you, Smothers Brothers for the adjectives.) Angelina Jolie is playing Maleficent and I am sure she will to do an amazing job.
But I am torn. I liked Maleficent being a villain. I don't need to know how she became one. Plus, unless they are changing the basic story we know she doesn't live in the end. So either they are changing the end or this is going to be hard to watch. Or maybe we feel her inevitable death is justified. I just don't know what I think about all this.
There have been other movies where the bad guy takes the lead role. Wicked may be the most popular, but Star Wars Episodes I, II, and III basically tell the story of the fall of Anakin Skywalker and the rise of Darth Vader. I haven't seen or read Wicked but I really hated the first three Star Wars movies.
If you would like to watch the trailer for Maleficent click here. I loved the trailer and thought everyone was playing their roles perfectly. However, I learned nothing about how the story is going to be told so I still don't know what to think. It is not coming out until May 2014 so I'll have time to learn more. I wish Flora, Fauna, and Merryweather (she was always my favorite) could give me a hint before then.  Happiness squared.
Goofy Tip: Is Maleficent your favorite Disney villain? Unlike a lot of  Disney villians that only come to the parks occasionally you can see Maleficent most nights at Disneyland and Disney's Hollywood Studios. She is the live-action villain in Fantasmic! that Mickey Mouse has to battle at the end of the show. My favorite part of Fantasmic! is when she turns from human to dragon. It is really impressive. I am glad the good guys win.