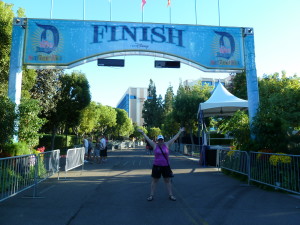 It's Friday and we are all looking forward to the weekend. If you are a runner you might be looking forward to the Inagural Dumbo Double Dare Challenge at Disneyland. To earn this special medal crazy (I mean enthusiastic) people will run a 10K on Saturday and a half marathon on Sunday. I wish I was one of those people, but I just couldn't do it this year.
However, it is on my calendar for next year. On Labor Day weekend 2014 I will be at Disneyland earning my Dumbo Double Dare medal. I haven't made any other plans for that trip but I have made my decision.
How about you? Have you been wanting to visit a Disney park? Do you say that you will go "someday"? Did you know that "someday" is not on the calendar? Instead of making wishes, make plans. Take some time this weekend to get out your calendar and make a date with Disney. You don't have to do anything else right now. Just write down the date you want to go.
What is the point of this? One, it gives you something to work for, something to save for. Plus, you can keep an eye out for any Disney deals that come along and you'll be ready to snatch them up. Lastly, knowing that you are visiting the parks, even far into the future, can bring a smile to your face. It always does for me.
So make a date, write it on a piece of paper, decorate it with Disney stickers, and put it somewhere prominent, like on your refrigerator, or your bathroom mirror. Maybe I'll see you at Disneyland next year, running with the rest of the crazies. Happiness squared.
Goofy Tip: Do you like Pintrest? It is a great way to plan for your trip. Make a page dedicated to your Disney vacation and then pin fun ideas as you find them. New rides, great food options, and cool merchandise can all be added so you won't forget anything when it comes time start finalizing your trip. Plus it builds up the anticipation which is part of the fun of planning things with time to spare.