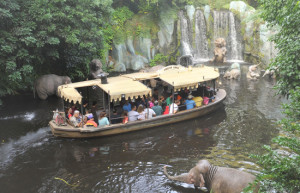 I waited until Halloween was over before I started talking about Christmas. I am a big believer in keeping Christmas in December, but the Disney parks get the season started in November so I will follow their lead. After all lots of guests want to experience the Disney parks at Christmastime and they wouldn't all fit in one month. So let the season begin.
Disneyland and the Magic Kingdom are doing something this year that has never be done before. The Jungle Cruise is getting a Christmas overlay. I think this is a fun idea. Even explorers celebrate Christmas. I look forward to seeing the decorations and I am really looking forward to hearing new puns. The number one reason I ride the Jungle Cruise is for the puns. Show me the back side of water and I crack up. Introduce me to Dr. Presume and I laugh until I cry. I hope these new Christmas puns are the worst ever. I may just die from laughter.
So let me be the first to wish you a Merry Christmas, and remember, don't shoot the messenger. Happiness Squared.
Goofy Tip: As much as people wish Christmas would stop encroaching on the rest of the year if you plan to visit the Disney parks (especially Walt Disney World) during the Christmas season you should be making reservations and buying tickets now. The holiday season is one of the busiest times to visit the parks and if you want to see all the great events than start planning today. Or, put a note on your calendar next May or June to plan for Christmas 2014.