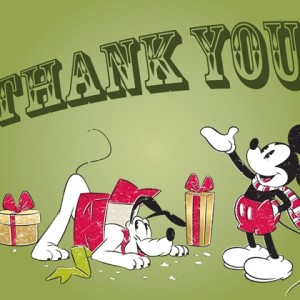 Wait a second, Jennifer. I thought Thanksgiving was the time to say thanks. That is true, but I am not talking about saying thanks for all the good things in your life, I am talking about saying thank you for all the great presents you got for Christmas. Call me old-fashioned but I think this is a courtesy that should become standard practice.
In my family if you didn't write thank you cards you didn't get gifts. I don't think thank you cards should be thought of as a chore. Aren't you thankful that people gave you stuff? Shouldn't they know you are thankful? Well, the nicest way to say thank you is with a card. You could call the person if you wanted to but everyone loves to get mail.
Even though cards shouldn't be a chore they often are. It is hard to know what to write and often the space to write seems huge. But I have found the perfect thank you card at spoonful.com that will make card writing fun again. This card features Mickey and Pluto, you have to make it yourself, and the space to write is just the right size. Not too big or too small. So make a list of who you need to thank and print out enough of these cards on regular paper. Cut, fold, write, and mail. Nothing could be easier and you'll be sure to get more great gifts next year. Happiness squared.
Goofy Tip: A fun thing to add to a thank you card is a picture of you with the gift you received. Ham it up with a thumbs up  or a big smile and the picture can be worth a thousands thank yous.