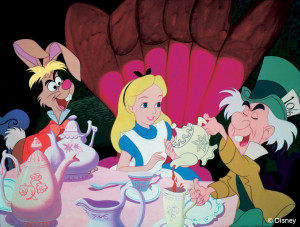 Spring is here and Easter is on its way. All I can think about are bunnies and eggs. This week I found two great Disney articles about bunnies (okay, actually hares) and eggs and I would like to share them with you.
Touringplans.com shows you where the eggs were hidden during the Limited Time Magic Easter egg hunt. I wish I could have visited the parks last week. I would love to have played this game.
Disney Insider (an e-newletter that you can sign up for here) had a great article on why the March Hare in Alice in Wonderland is mad. I love both Disney Alice movies (although for very different reasons) and found this article wildly entertaining.
If you enjoyed these stories, why not share them with your friends? Spring may be the time for bunnies and eggs, but any time is the right time to share something fun. Happiness squared.
Goofy Trivia: My favorite March Hare factoid is that in Tim Burton's Alice in Wonderland the March Hare has a name listed in the credits although not mentioned in the movie. And what is his name? Thackery Earwicket the March Hare! That is an awesome name. I'd love to give him his own animated show just so I could say his name over and over. Thackery Earwicket!



For great tips that you can take with you on your tablet or smart phone download the Kindle app and buy a copy of Goofy Tips for a Happy Disney Vacation
. For 99 cents you'll have hundreds of great ideas for visiting the Disney Parks only an app away.